Open a ViewMedica account
This tutorial will cover how to open a new ViewMedica account. If you already have a ViewMedica account and want to add a new service to that account, log in and do that from your account Dashboard.
Review Features
From the main menu on our site, go to the Services menu and select the service you are interested in: Either Patient Education Videos "On-Demand," "VMcast Waiting Room TV," or "Integrated Videos."
On the page that opens, you can read about the features included in the ViewMedica service. We encourage you to review this information and when you are ready to order, click the green FREE TRIAL or GET 1 MONTH FREE button at the top of the page.
Specify Organization Type and Size
Tell us if you are a Medical Practice, Hospital or Other organization. Then let us know how big your facility is.
Select Content
On the Content Selection screen, select a library name to see a listing of all the items in that library. Numbers in orange boxes next to a library name shows how many items in that library you have selected. A search box just above the Libraries list on the left may help you find the content item you are looking for. The list of items also can be printed using the "Print Video List" link above the Libraries (see How to print a list of content).
The listing displayed shows all the available content in the selected library. The listing may be divided by library collections (for example, Neurology is divided into body regions of head, spine and peripheral). Each collection list is also divided into Procedures and Conditions. If you want to preview an item, click on the View link next to each content item. When you are finished previewing an item, click the close X in the window's upper right corner to return to the page.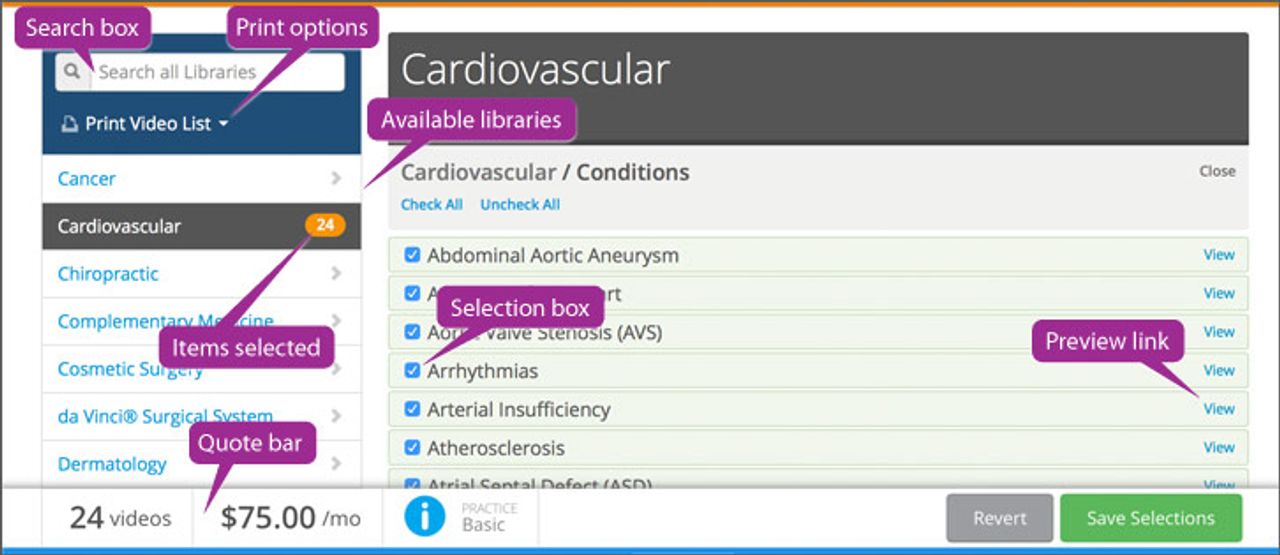 To select content, click in the content item's check box. Note that you can also use the list's Check All and Uncheck All links.
The Quote bar at the bottom of the page shows your price for the items selected. As you add or remove content from your quote, this number may change. The total selected items seen in the Quote bar shows total unique items selected. For example, if the same item is selected in two different libraries, you are only charged for one selection. As you add selections, if a volume discount is available, the system will let you know.
Hit the green "Save Selections" button in the Quote bar when you have selected all your videos.
Select a Service
Now select one or more of the ViewMedica services that you want. When done, hit the green "Save Selections" button.
Create a Profile
Next, create your profile. This is important to do even if you do not wish to place your order right now, because it lets you log into the quote system later on to finish your order. Choose a username and password for your account. Be sure to remember these as you will need them to log into your account later. Enter facility information and contact info. We use this information to set up your future account. Finally, read the Terms of Service Agreement by clicking on the link. To accept, hit "Save & Agree".
Enter Payment Information
Now you are ready to check out. If you want to pay by credit card, we offer monthly, quarterly and annual plans for On-Demand and VMcast services. The Integrated Video service requires annual billing. Accounts opened by credit card are approved immediately, so you can start using ViewMedica right away. In this case, enter your card into into the secure form. If you want to pay by invoice, we offer an annual plan. For payment by check, you will be emailed an invoice at the address you specified earlier, and your account will be approved when payment arrives at our offices.