Change ViewMedica Content Selections
You can add or remove content from your ViewMedica account in the My Account area of this site.
Visit My Content
After logging in, go to the Video Selections link listed under the My Content section of your Dashboard.
Select a Library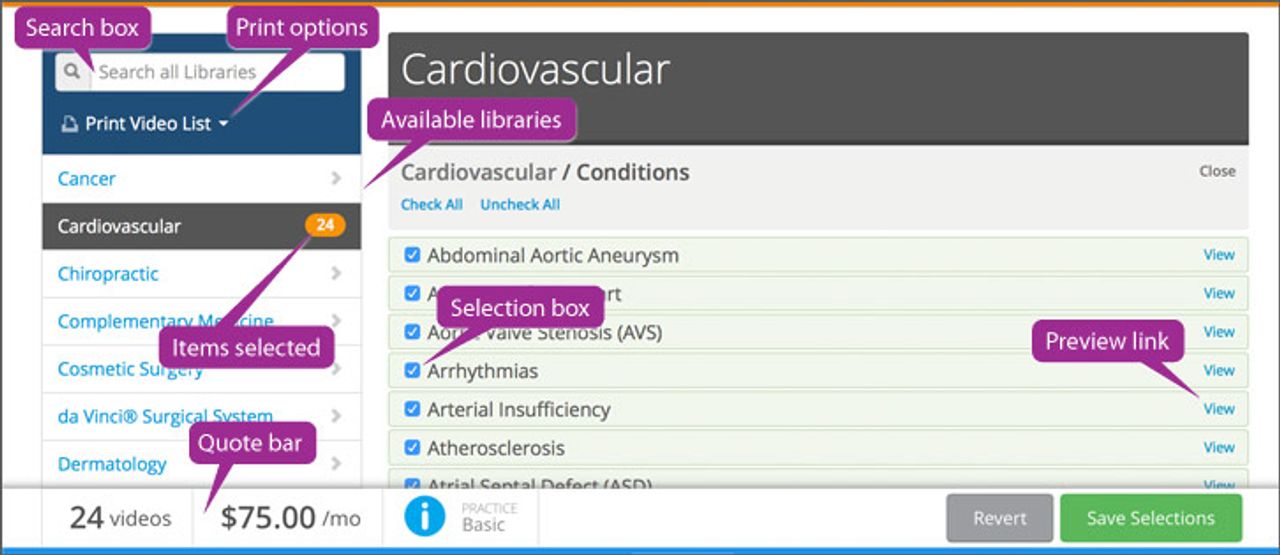 Select a library name to see a listing of all the items in that library. Numbers in orange boxes next to a library name shows how many items in that library you have selected. A search box just above the Libraries list on the left may help you find the content item you are looking for.
Select or Deselect Content
Content items on this screen with a check box are currently part of your subscription. To add new content, select its box. To preview the item, select the "View" link next to the item name. Streaming clients can always deselect a content item's check box to remove it from their account. If you are an Integrated Video client, items in use cannot be deselected until your Open Selection Period begins 30 days before your contract period renews.
Check the Quote
The Quote bar below the content listing shows your account's monthly billing. As you add or remove content from your account, this number may change. The total selected items seen in the Quote bar shows total unique items selected. For example, if the same item is selected in two different libraries, you are only charged for one selection.
Save Selections
Hit the green "Save Selections" button in the bottom quote bar when you have set the selections that you want. The change in billing (either an increase or decrease) will not take effect until the next month's billing cycle. Clients paying annually will be charged or invoiced for a pro-rated amount based on the months remaining in their contract year.