Add a Custom Note to Any Content Item
From the Your ViewMedica/Content screen, you can edit an individual content item to add a custom note. Use content notes to provide practice-specific information about this topic. Whether you promote your ancillary services or clarify points important to you, the text in the content note is yours to create. People will see the message at the beginning of the content item in ViewMedica. The note will display for all languages.
After logging in, select "Add Video Notes" from the "On-Demand Player" drop-down menu in the orange bar.

Create a new note first by hitting the green "+ New Note" button. A window will open that has blank fields for your new note.

Type in a headline for your note. "Note from your doctor" or personalize the title with your name or practice name. The headline is limited to 30 characters because the space available is limited.

Type or paste in the content note into the "Text" field. There is no limit to the text you put in this field, but try not to put a lot of text here. Web users may not be interested in reading a lot of text.

Hit the "Save" button to save the note.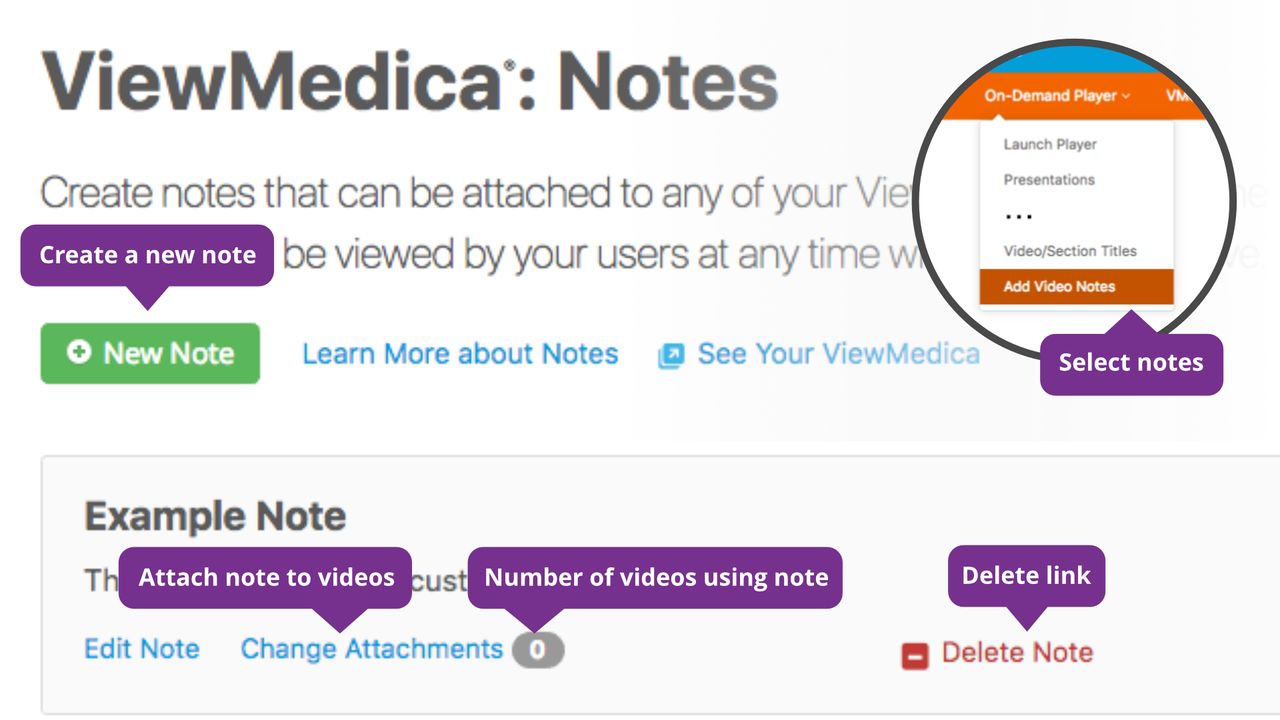 Now you need to attach the new note to one of your ViewMedica items. The note you created shows in the list of all custom notes you have created. Select the "Change Attachment" link for your new note. A window will open that lists all your content.

Click on the video title you want to attach your note to. Items that already have an attached note will be greyed out, and you will not be able to attach another note there.

Now when you go to the ViewMedica viewer embedded on your website, the item will show your note.
Note
If you need to remove the note, you can deselect it from the video it is attached to in the "Change Attachments" window. Or, you can hit the "Delete Note" link below the Message field which will delete the note and remove it from all videos it is attached to.