Add a Custom Background Image to ViewMedica
This tutorial will cover how to replace the stock ViewMedica background image with a custom image of your own.
First, you need to have or create a custom image to use. If you are not familiar with how to create images for web use, consult your web developer or logo designer for guidance. To fit properly within ViewMedica, we suggest the image (jpg or png format) be at least be 1140 pixels wide by 720 pixels high — if you upload your image, our online image editor will help you size and crop. You can put whatever you want to display: your logo, a photo, whatever.
Now, login to your account dashboard and select "Player Appearance." Then click the Player Art's "Edit/Upload Art" button.
Upload Your Own Image
In the "Create New Art" window, click the "Choose Image to Upload" button.

This will bring up your computer's file structure. Navigate to your logo file, select it and click "Choose."

Your image will load, and a cropping box will be displayed to show the proper dimensions. Click and drag the box to move it or click and drag the blue handles to resize. When you are finished editing, click the "Crop" button.

Preview your finished image. If you want to continue editing, click the "Edit Image" button. If you are happy with the results click the "Save" button.
Use an External Image
In the "Create New Art" window, click the "Use External Image" tab.

In the Image Location field, enter the address where you uploaded your artwork. Click "Save" to apply your art. Don't worry that your image does not appear here. As long as you entered the correct address, it will appear in the ViewMedica viewer on your site.
Use Stock ViewMedica Images
In the "Create New Art" window, click the "Use Default Art" tab. Note that the display will update to preview the Stock images available.

Select the Stock image on the left that best suits your facility. Your selected art will display on the right of the window.

When you are ready, hit the "Save" button.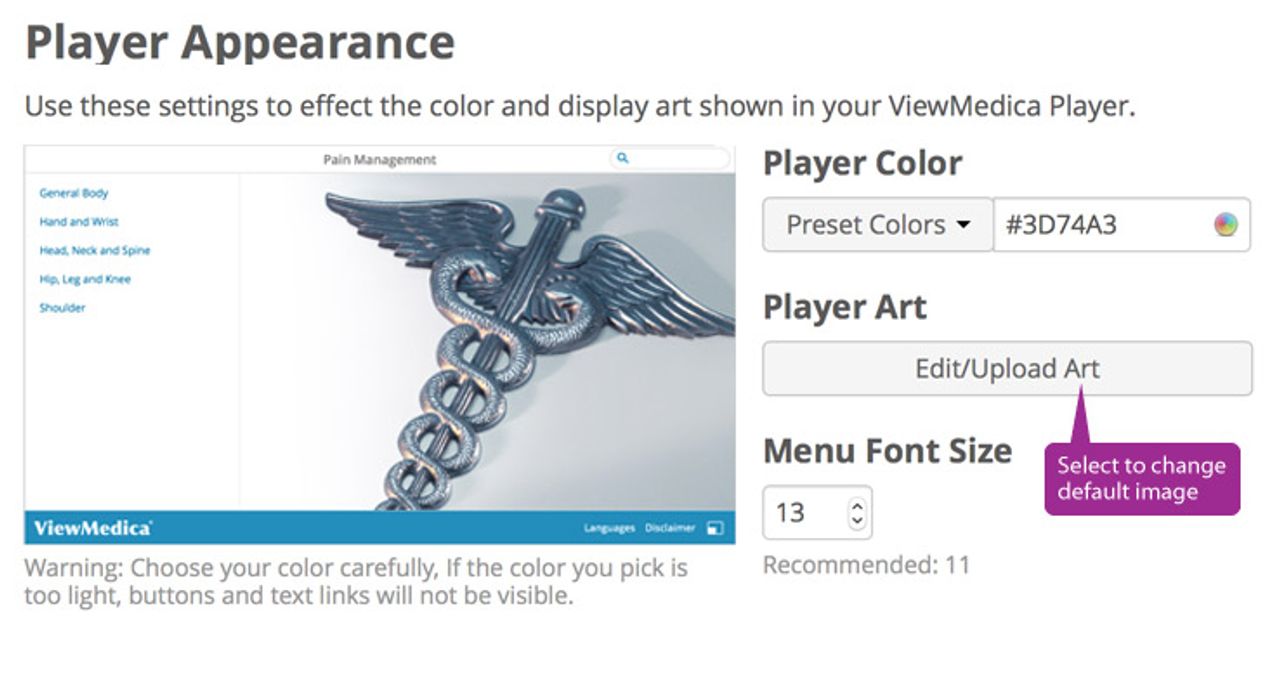 Your new art is now attached to your ViewMedica Player. Next time you use your ViewMedica Player, your new artwork will display.
Note
Sometimes you need to close your browser, or clear your browser's cache before this change can be seen.
1,939